Wasp XT is a hull in Tanki Online. It is the equivalent of Wasp M3, and can be obtained by players at the rank of Generalissimo after completing one of the "Earn 99,999 experience points" Daily Missions.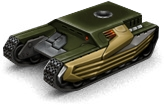 Charasteristics
The hull only has an M3 version, which has identical stats to the equivalent Wasp version, and only has a new look. It also has the same Micro-upgrades available as Wasp M3.
History
The release of the hull, along with the release of Firebird XT, Thunder XT and Viking XT, was first announced when Tanker's Day began, on September 9, 2015.[1] It was released on September 10, 2015.[2]
Table of characteristics
Main article: Wasp's table of charasteristics (M3)
See also
Sources and references
Ad blocker interference detected!
Wikia is a free-to-use site that makes money from advertising. We have a modified experience for viewers using ad blockers

Wikia is not accessible if you've made further modifications. Remove the custom ad blocker rule(s) and the page will load as expected.