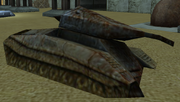 Destroyed tanks are landscape objects that appear in a variety of maps. These are rusty tanks, half-sunken in the grownd, not owned by any players and are only used for decoration purposes. All destroyed tanks are a combination of Firebird and Titan (both at M0).
Appearances
Destroyed tanks are featured in the following maps:
Cross
Desert
Esplanade
Highlands
Noise
Opposition
Rio
Scope
Station
Year 2042
Zone
In addition, one is used in a custom 404 error message in Tanki Online's website, when searching for a content that doesn't exist.
Trivia
The destroyed tanks use the pre-rebalance design, which is applied on both their turret and hull. The rusty pattern is also the one used previously to indicate destroyed tanks.
Gallery
Ad blocker interference detected!
Wikia is a free-to-use site that makes money from advertising. We have a modified experience for viewers using ad blockers

Wikia is not accessible if you've made further modifications. Remove the custom ad blocker rule(s) and the page will load as expected.